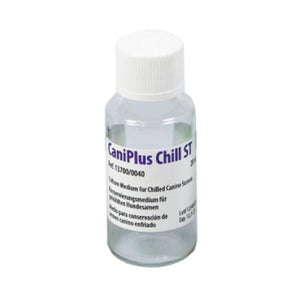 The Breeders Cupboard
CaniPlus Chilled Semen Extender ST
Regular price
$74.00
$0.00
Unit price
per
Caniplus Chill ST
If you are shipping Chilled semen you need to add an extender. Without it the shipment will not survive. The extender provides the correct PH, nutrients, thermal stabilizers and antibiotics for the semen to survive up to 5 days.
is a short term (≤ 5 days) semen extender developed especially for chilled canine semen.
-Ideal for short term shipping.
-Animal protein free.
-Supplied in a 20ml bottle. 
Designed to assure high conservation performance of canine semen The next generation of canine extenders from Mini-tube are 100% animal protein free. An additive prevents the need to add egg yolk and protects the sperm cells during chilled storage. It also protects the sperm cells from damage caused by temperature variations during shipping, prevents oxidative stress and neutralizes degrading metabolites negative effects. CaniPlus Chill ST has a shelf life of 24 months from date of production when stored at +4°C. Extenders maintain 70% of initial motility during the given period for storage / transport.
PLEASE CHOOSE EXPRESS SHIPPING AND REFRIDGERATE WHEN IT ARRIVES!!
---
Share this Product
---