How to Tell if Your Dog is Pregnant How can I tell if my female dog is pregnant? Miranda shares dog pregnancy signs to look for, both physical and behavioral: The best way to diagnosis a dog pregnancy is always with abdominal ultrasound which typically involves a visit to your veterinarian. For breeders that would like to learn to do this at home we do offer a wonderful option from Pet Tech Solutions.  /products/vis-scan-x-ultrasound-system  The reason I like ultrasound the best is I can get an estimation of not only the size of the litter, but how strong the puppies...
---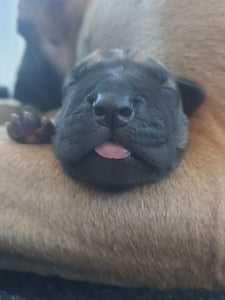 Kitten and Puppy Umbilical Cord Care (some content taken from Dr.Marty Greer Revival Animal Health) Most of us do well with managing moms at birth, but we neglect to manage puppies and kittens after birth. One commonly missed and very important management tool is umbilical cord care. If the kitten or puppy's umbilical cord is not cared for properly, it can lead to navel infection. Navel infection can lead to joint issues, hernias, sick or dead puppies and kittens from sepsis. Kitten and Puppy Umbilical Cord Infection The umbilical cord is a straight shot to the bloodstream. Infection of the...
---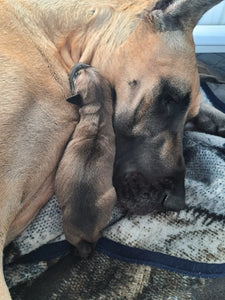 How to Use Calcium at Whelping (some content taken from Dr.Marty Greer Revival Animal Health) In mammals such as dogs, calcium allows the uterine muscle to slide past and shorten, resulting in effective uterine contraction. Low blood calcium leads to ineffective contractions and nervousness, often resulting in puppy loss. If you supplement calcium before whelping, you shut down the pregnant dog's ability to fine tune the minute-by-minute demand needed for whelping and milk production. By staying away from calcium supplements pre-whelping, you can let her gear up for the needs of whelping and milking and help prevent calcium issues such...
---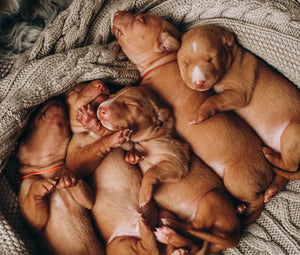 4 Main Causes of Newborn Puppy Illness and Death (some Content taken From Dr. Marty Greer Revival Animal Health) There are four main causes of early neonatal puppy illness and death. Once the pups are breathing well managing these four parameters can make the difference between life and death for your pups. The four are all intertwined, without managing one well, you will struggle to manage the other three. They will be discussed as the 4Hs for this reason. Hypothermia in Newborn Puppies Hypothermia in puppies is low body temperature. Hypothermic pups have a four-fold increase in risk of death. Since...
---
In this post we talk about things to consider in your brood bitch when planning a litter.