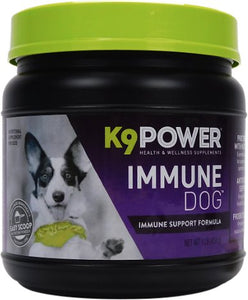 The Breeders Cupboard
K9 POWER IMMUNE DOG
Regular price
$54.95
$0.00
Unit price
per
AMAZING IMMUNE SUPPORT FOR YOUR DOG
Immune Dog is the first formula designed to support the body's own immune shields in two powerful ways
More than 1 Billion Probiotics

Antioxidant *GSH ( Glutathione) shields are lowered by chemical induced oxidative damage. Our landmark Thiol Doners help boost the body's (endogenous) GSH shield.
Great to support your dogs immune system while traveling to shows    and competitions
Helpful for dogs coming off immune suppressants or healing from infection and illness
DIRECTIONS: 
Mix with wet or dry food. Begin with half scoop and work up to recommended dose over one week. Daily amount may be divided among feedings and tailored to the dog's individual needs.
Daily Serving Size (Scoops) 1 Scoop = 1 Teaspoon
5-20 Pounds…..½
21-50 Pounds…..1
51-80 Pounds…..1 ½
81-100 Pounds…..2
Over 100 Pounds…..3
SERVINGS: 
112 scoops per 1LB container.
INGREDIENTS:
Active Ingredients:
TMG (Trimethylglycine as betaine anhydrous)….1314 mg
Proprietary blend of dried: Lactobacillus acidophilus, Lactobacillus casei, Lactobacillus salivarius, Lactobacillus plantarum, Lactobacillus rhamnosus, Lactobacillus brevis, Bifidobacterium, bifidum, Bifidobacterium, longum,
Streptococcus thermophiles…..116 mg
N-Acetyl L-Cysteine…..98 mg
Beta Glucans…..91 mg
Quercetin…..54 mg
Acetyl L-Carnitine…..38 mg
Alpha Lipoic Acid…..19 mg
Lutein…..10 mg
Resveratrol…..9 mg
Inactive ingredients:
Maltodextrin, Dried Pomegranate powder, Citrus Meal, Dried Mulberry powder, Rice concentrate (For natural anti-clumping), Dried Shitake Mushroom powder, Dried Goji Berry powder.

Contains No: flax, wheat, gluten, soy, by-products, artificial colors or artificial flavors.
Usage of Product: Formulated for dogs 6 months and older. May be used on weaned puppies at low doses in case of illness or prevention.  Please ask us for guidance. 
---
Share this Product
---